paint
My intention was to develop the 'hands' installation in some way and the first step was to spend time in early July 2019 at Temenheere Sculpture Gardens in the space around the pond.
Drawing and painting are my way of understanding a space, so I set about painting the environment surrounding each of the 'hands'. I discovered that I had only gouache to hand so I took advantage of this medium focussing on the trees not the hands.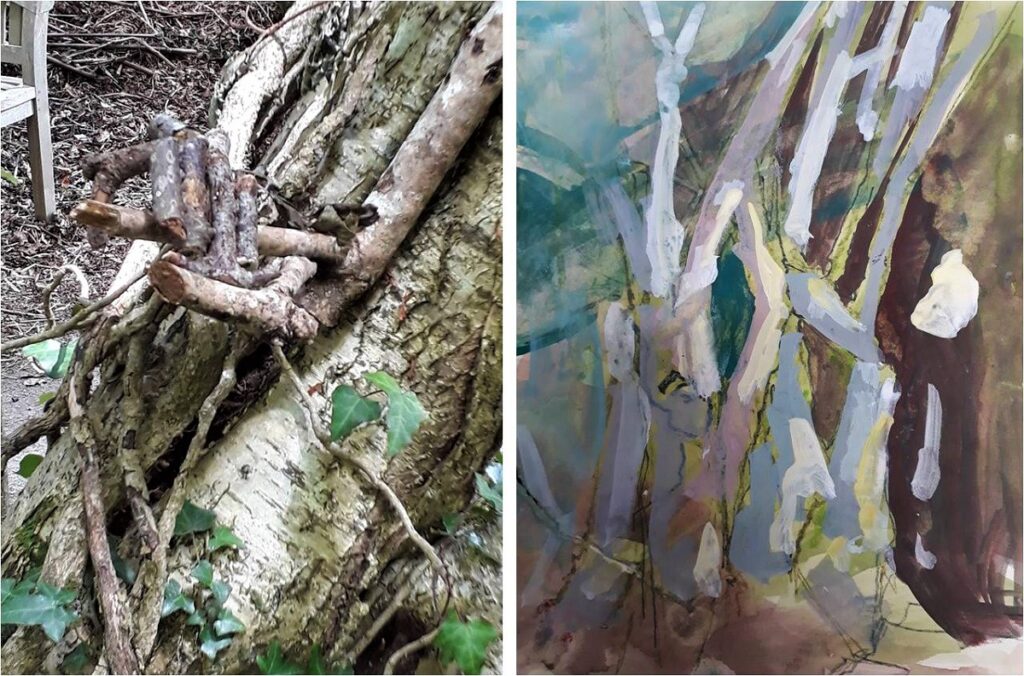 mono-print
As I looked at the gouache sketches it seemed that making prints of them would add a further dimension, and my gelli -plate would enable me to create monoprints of each sketch. As this process is unpredictable I anticipated that the results would develop the work further, and introduce an element of randomness.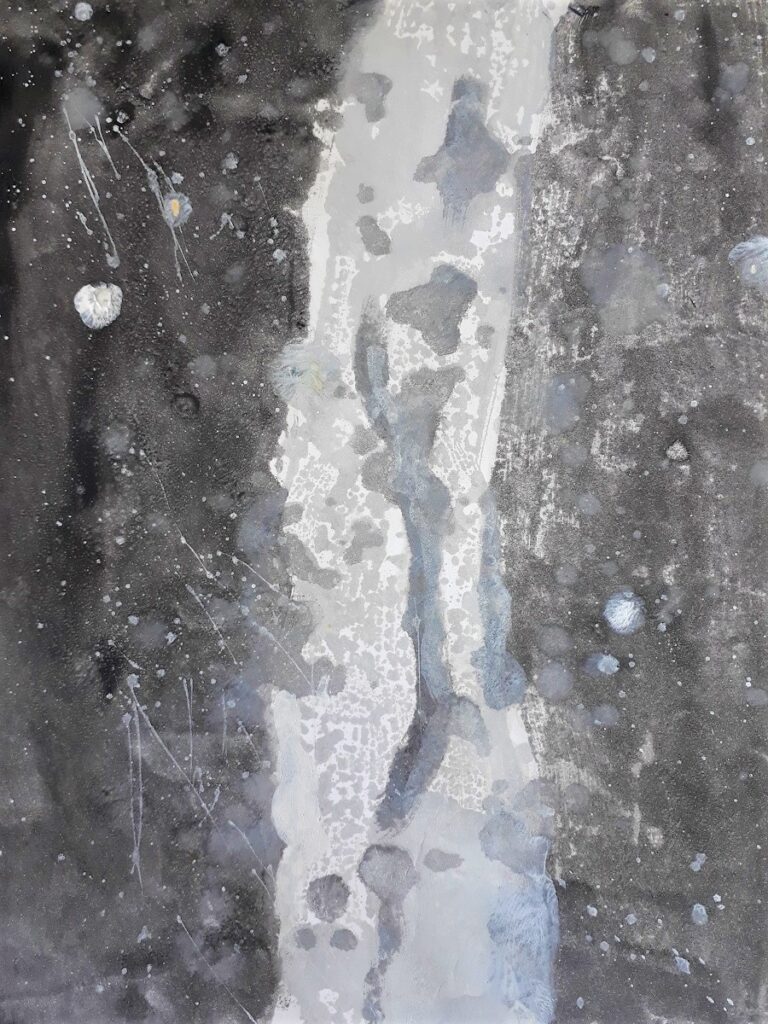 collage
The textures and colours of the gelli prints reminded me of the tropical parts of the Tremenheere Gardens. My instinct was to tear up the mono prints and use the torn pieces to create one larger collage, whilst keeping the gardens at the back of my mind.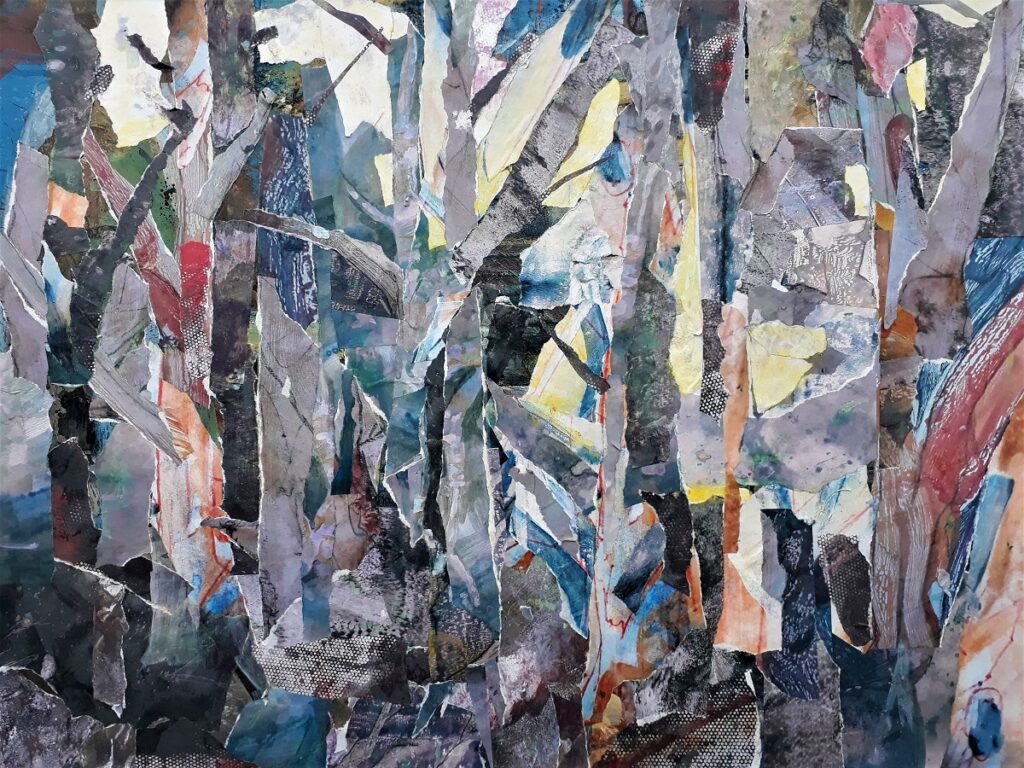 film
The creation of the collage gave me some time to think about the next stage and I found myself thinking about creating a video, using the collage as a background. I had taken some short videos during my day sketching, and I decided to edit these, and add a soundtrack. As I had forgotten to take my tripod, I made a virtue of the instability by shooting video at 40 times zoom, handheld.
The editing involved stripping out the 'representational' element and replacing it with a digitized format. The soundtrack was the sound of a child's train whistle played at a slow speed, and layered. The version here is from Instagram.
digital print
When I reviewed the film frame by frame I was taken by some particular frames and decided to experiment with digital printing. After a number of unsuccessful experiments I found paper, settings and ink that worked well.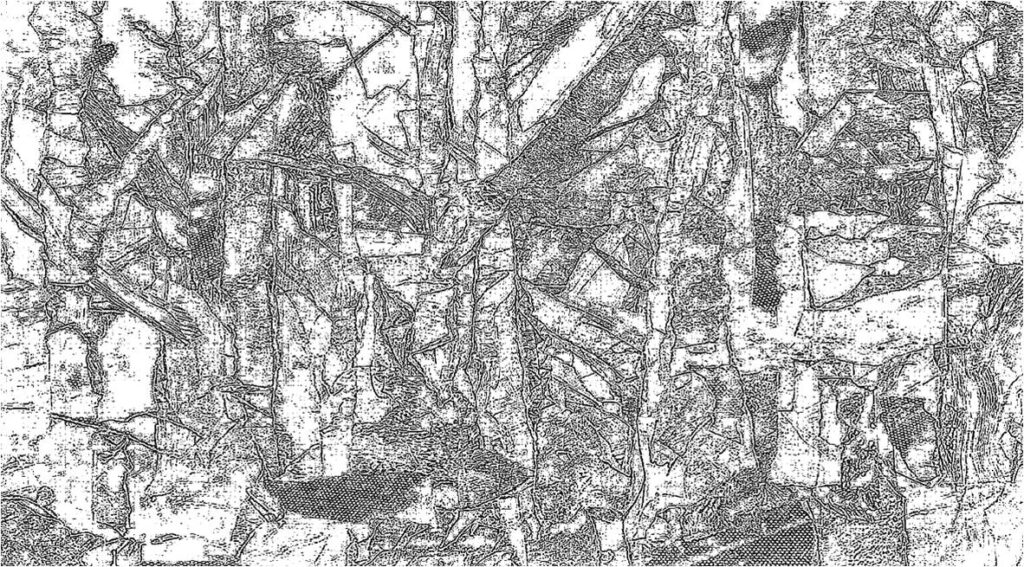 painting
I particularly liked the detail in the digital prints of the screen shots and decided to make a painting based on these images. The final image was 1m x 1m in acrylic on marine ply. This completed the circle and was the final piece of my Sol Force development.