<back to portfolio
studio visits
The value of studio visits is that because they are a safe space, artists feel more able to talk about their work. In my case the experience of discussing my work with three artists whom I respected was a very positive one. I think we all gained additional insights into our practices during these visits.
walking the land
The act of walking together can be an intensive way of seeing the landscape from a different point of view. Juliet saw the different points of reference, Jonathan saw the historical mining references and Donna saw the three dimensional shapes. Repeating the activity regularly meant that we immersed ourselves in this space collectively.
influences
The expanse of open moorland is in sharp contrast to the closed in wooded valley near Henwood. My response was to collect wood, take photographs, and sketch. We had agreed that in normal circumstances we would avoid 'copying' artists ideas, but for our collaboration that we would allow ourselves to be influenced by the approach of others. Donna's sculptural practice used fabric and clothing, so I adapted this idea and collaged torn up jeans into an acrylic painting of Henwood.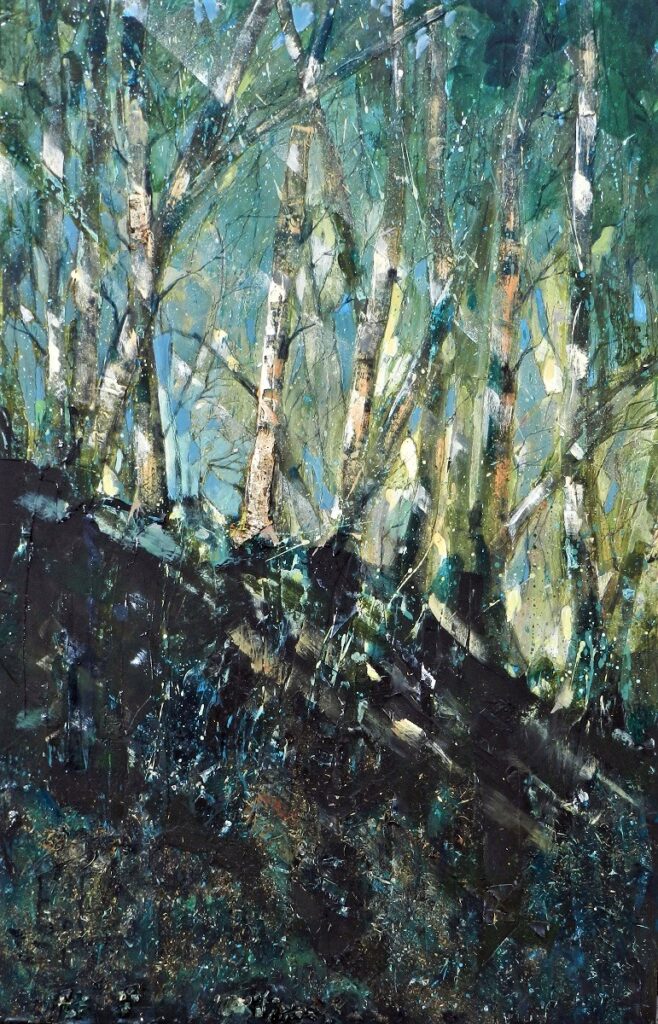 re-presenting the landscape
The single most powerful motif for me on the moorland was a line of windblown stubby trees. I visited them many times and decided that I would paint a panorama of the moor in 3 panels, each 70 x 150 cms. Each panel would relate to the next but differ in the colours of the seasons I had experienced there. I worked on all three at the same time.
….including the industrial past
The last part of this circular walk goes through an area where mining was a major industry, but now derelict. There was a sense of underground activity which I reflected in this painting.
the cream tea installation
At the end of the first walk we visited a local café for cream tea. The welcome was less than enthusiastic and we agreed not to go again. However at the end of the next walk we decided to return and enjoy the verbal telling off for putting our jam on top of the cream. This became an important part of the Bodmin experience, and was reflected in our exhibition. We set up a mock tea room and served free cream teas to visitors, provided they were polite.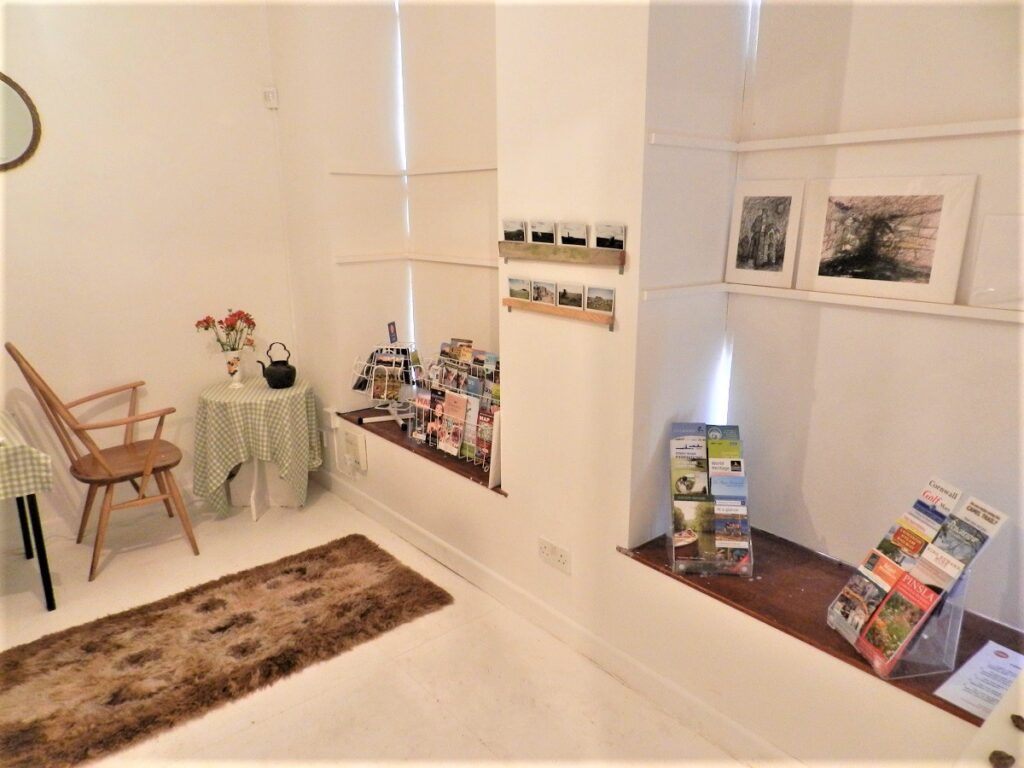 the exhibition at cmr
The exhibition at CMR ran for 3 days and was a popular event, with individuals and groups, especially the free cream teas.