In 2019 I was lucky enough to be selected for the Newlyn School of Art year long Mentoring Programme, and our final exhibition (xvi_artists) was to be at the PZ Gallery. I decided that my contribution to the exhibition would be a site specific installation, based on a hunch that there was a family connection in the building, which would involve an exploration of my feelings, response, and connection to this special space.
This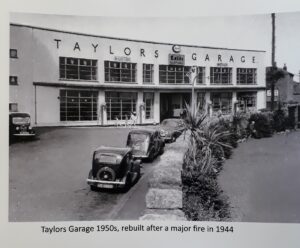 turned into a 3 month research project which illustrated just how connected we all are. I had always thought that the PZ Gallery in Penzance felt like a familiar space and I wanted to know why. It had clearly been a former car showroom and on closer inspection I could see the faint marks on the outside identifying it as Taylor's Garage. But who were the Taylors of Penzance and how did this relate to my experience?  This Gallery, in Coinagehall Street, occupied what had once been the car showroom of a garage, owned and built by the Taylor family in Penzance.
Part of my own childhood  had been spent playing in a similar garage in Bristol, the White Tree Garage, where my father was the proprietor. Could there be a link? Further research into the Taylor family tree revealed that the proprietor of the garage from 1947 to 1980 was John Vivian Taylor, a contemporary of my father.  However I could find no concrete evidence that the 2 men had met, even though they were both members of the South West branch of the Institute of the Motor Industry.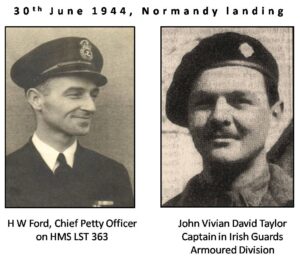 I was curious about Vivian Taylor's military career during WW2 and discovered that he had served in the Irish Guards as a Tank Commander and that he was part of the Normandy landings at the age of 22. I also knew that my father, Harold William Ford, had served in the Royal Navy aboard a Tank Landing Ship (LST 363) and was present at all the major landings during the war.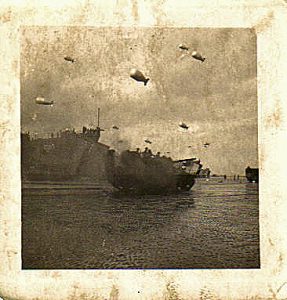 This tiny photograph (3cms x 3 cms) was taken on D-Day by Harold William Ford, my father, as they were unloading a battalion of tanks.
Vivian Taylor's tank battalion embarked on 30th June 1944 from Fareham heading for Normandy. My fathers archive suggested that his ship operated the shuttle between Normandy and Fareham.
Was it possible that he and Vivian Taylor's paths had crossed in Normandy?  
I'd like to think so.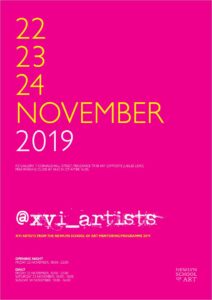 The resulting exhibition at PZ Gallery in November 2019 presented the work of 16 artists who had completed the Newlyn School of Art Mentoring Programme in 2019, led by the inspirational Jesse Leroy Smith. The xvi_artists are: Michael Angove, Rod Ashman, Beverley Bailey, Mike Boyer, Jeni Calvert, Tony Donaghy, Ron Ford, Jo Gorman, Richard Gregory, Jane Hodgson, Nicky Huxham, Jane Pine, Rachael Redfern, Camilla Stacey, Katherine Sheers, and Charlotte Turner.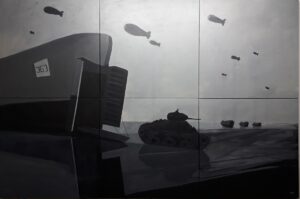 My contribution evolved from the research into the connection between the two families, and included a painting (2.4m x 1.6m) of the Normandy landing representing Vivian Taylor disembarking from my fathers ship, LST 363,. The painting was inspired by  the photograph that my father took at the time.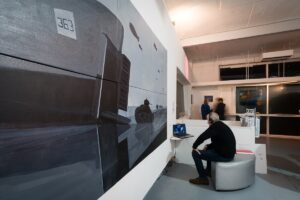 In creating such a large painting, I had to consider what approach to take both practically and aesthetically. This was the largest size I could get into my studio and limited transportation meant that it had to be painted in panels that could be assembled in situ.
No painting can do justice to the events that occurred during the Normandy landings, so my approach was to create a graphic image in monochrome, featuring my Dad's ship (LST 363), The tank, and Captain John Vivian Taylor.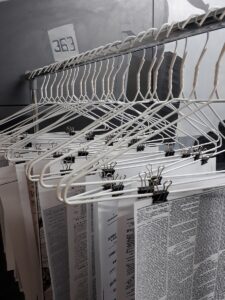 In addition I created a family history of the Taylor's of Penzance, with extracts from newspapers from 1882 to 1980. These newspaper extracts were hung on a clothes rack. they traced the history of the family from 1860 and their business which grew from Ironmongers, to bicycles and then Motor agent and engineers. They had branches in Penzance, Truro, Falmouth and Hayle.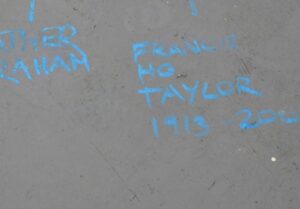 The third element of my installation was to draw out the Taylor family tree on the exhibition floor using liquid chalk. I anticipated that by the end of the exhibition this element would have been erased by visitors feet, a metaphor for the passing of time. Members of the Taylor family attended the exhibition and discovered more links with the Newlyn School of Art. We are still in touch.
The XVI Artists Exhibition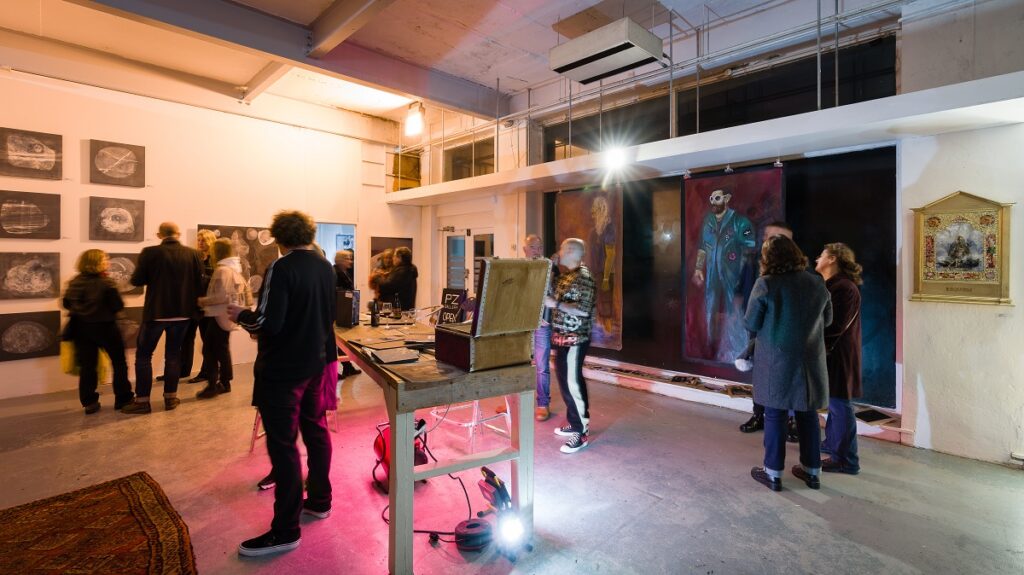 all XVI exhibition images copyright Steve Tanner